I am a Brooklyn-based Visual Artist, Architect and Scene Set Designer working in glass-metal Sculpturing, Installations of art, Scenic Art and Video Projections with crystals. With formal training in the school of Architecture in Buenos Aires, my work explores the relationship between color and light refraction through different materials creating prismatic spatial ambiances with infinite optical layers.
Colors and vibrations of light are the roots of my discipline, I develop worlds of fantasy and Edenic landscapes by the use of many different sources such as recycled materials, fabrics, papers, crystals, diffraction grating sheets and video projections.
Since I started creating I've been deeply inspired by the geometry and mathematical proportions that appear in nature, they help me to organize objects in space with a harmonic balance between them.
 My intention is to generate an atmosphere where the beholder can find him/herself in a space that expands their senses, somewhere familiar but unknown at the same time, a place to discover through associative memories. Each exhibit is a ritual where an unconscious connection is established between the spectator and the spectacle.
In the past month I've been collaborating with a lot of different artists in New York City including J Triangular (Celestial Twins),
Camilla Padgitt-Coles
 (Ivy Meadows), Ulysses Popple, Jonathan Sims (Chromadetic)  and more.  Exploring new dialogues between Analog and Digital video performances for live music concerts with suncatchers and crystals to project in various angles through the architecture of the venues.
Since 2014 I work along the art collective "Salvia Divinorum" which I co-founded with Malva Molina and Mercedes Comesaña. We have taken part in different art shows and live music performances nationally and internationally, such as the Margarita Xirgu Theater (Buenos Aires) and Gallery Petite (New York) presentations of the music labels "Fertil Discos" and "Pakapi Records", in charge of their visual aesthetics.
***
Soy Artista visual, Arquitecta y diseñadora de escenarios con base en Brooklyn trabajando en esculturas de vidrio y metal, instalaciones de arte, escenografías y proyecciones de vídeo con cristales. De entrenamiento formal en la escuela de Arquitectura en Buenos Aires, mi trabajo explora la relación entre el color y la refracción de la luz, a través de diferentes materiales creando ambientes espaciales prismáticos de infinitas capas ópticas.

Los colores y las vibraciones de luz son las raíces de mi disciplina, recreo mundos de fantasía y paisajes Edénicos con el uso de una extensa gama de diferentes fuentes, tales como materiales reciclados, telas, papeles, vidrios, hojas de difracción holográfica, proyecciones de vídeo, etc.
Desde que comencé a crear me he sentido profundamente inspirada por la geometría y las proporciones matemáticas que aparecen en la naturaleza, me permiten organizar los objetos en el espacio con un equilibrio armónico entre ellos.
Mi intención es generar una atmósfera donde el espectador pueda encontrarse en un espacio que expanda sus sentidos, un lugar familiar pero desconocido a la vez, que descubre a través de la memoria asociativa. Cada exposición es un ritual donde se establece una conexión inconsciente entre el espectador y el espectáculo.
En los últimos meses he estado colaborando con varios artistas diferentes en la ciudad de Nueva York incluyendo J Triangular, Camilla Padgitt-Coles (IvyMeadows), Ulysses Popple, Jonathan Sims (Chromadetic), entre otros. Explorando nuevos diálogos con cristales sobre vídeos analógicos y digitales para conciertos de música en vivo, festivales y exposiciones, de este modo projectámos en varios ángulos a través de la arquitectura circundante. 
Desde 2014 trabajo junto al colectivo de arte "Salvia Divinorum", Cofundado con las artistas Malva Molina y Mercedes Comesaña. Hemos participado en diferentes espectáculos de arte y conciertos de música en vivo a nivel nacional e internacional, como el Teatro Margarita Xirgu (Buenos Aires) y la Galería Petite (Nueva York) presentaciones de las discográficas "Fertil Discos" y "Pakapi Records", a cargo de su estética visual.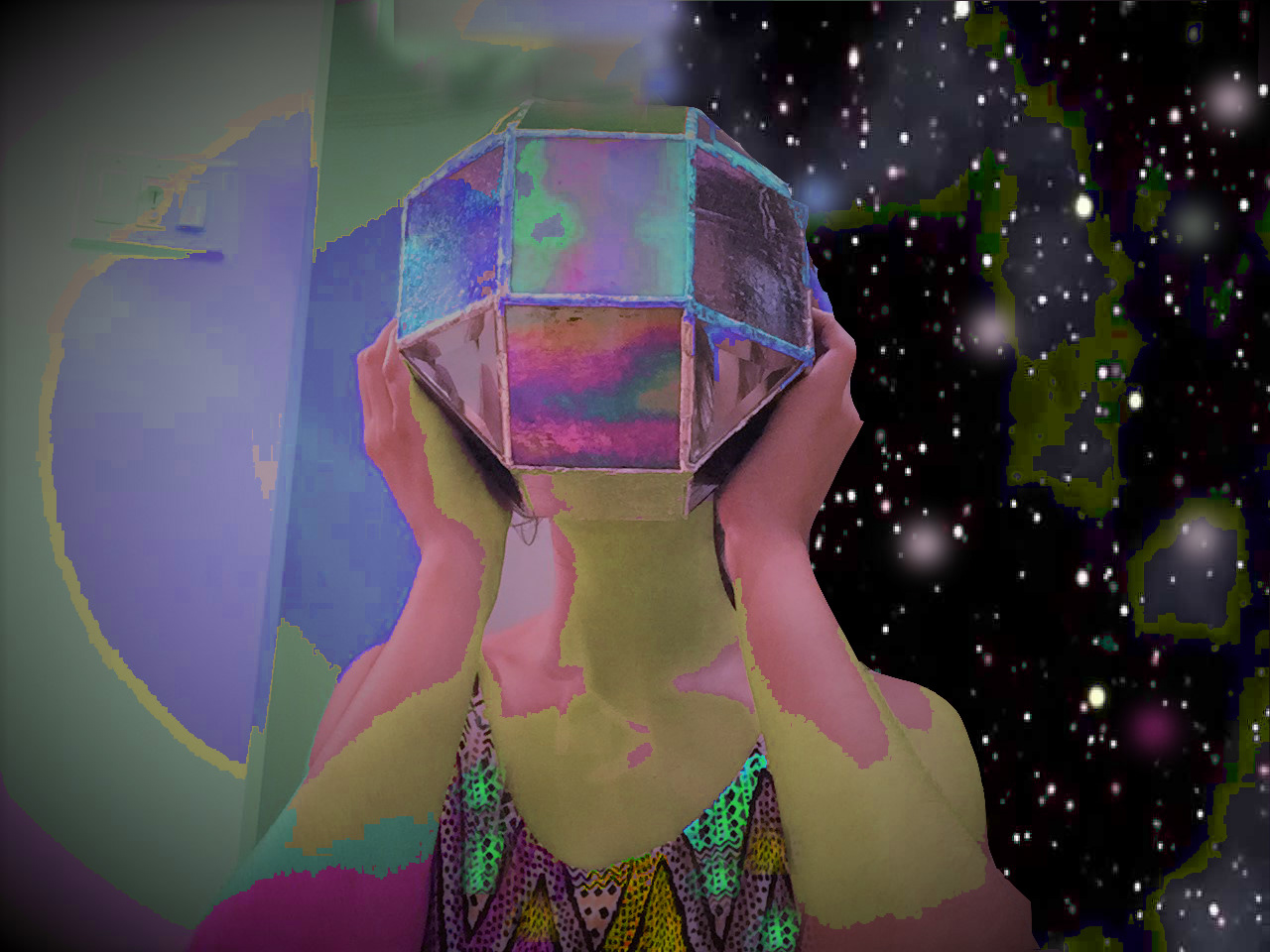 This is a digital collage made with a self-portrait wearing a half Rhombicuboctahedron on my face and cosmic and parallel worlds as the background 
********
Este es un collage digital que tiene como base un autorretrato utilizando medio Rombicuboctaedro en mi rostro con fondos cosmicos de mundos paralelos